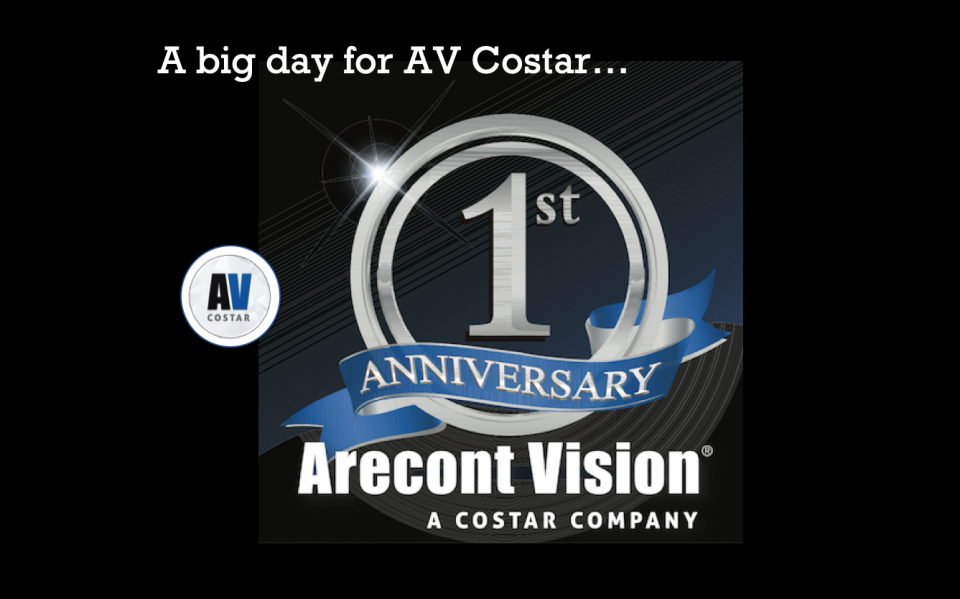 It's our first anniversary as a new business!
In July of 2018 Arecont Vision Costar launched as a new business unit of Texas-based Costar Technologies, Inc. (OTC Markets: CSTI).
While we're a young company, we bring decades of knowledge and expertise in designing, building, and supporting our customers and partners across the video surveillance industry. We've learned a lot along the way to get here, and we've implemented that knowledge at the new Arecont Vision Costar.
All of us at Arecont Vision Costar are committed to delivering the surveillance industry's best customer experience while offering innovative products with outstanding quality and reliability.  That theme is built right into our corporate DNA.  If you've done business with us over our first year, we think you'll already have noticed the difference from our predecessor business, and from our competitors.
Of course, we're continuing to make significant investments in our people, systems, products, and facilities to make good on this commitment.  It's not a one-time thing, but instead is our long term promise to customers and to ourselves.
We're not the only ones saying good things about the new Arecont Vision Costar, either. Read what some in the industry press have recently said about our new company here.
With of all of this in mind, keep reading for a quick look at a few of our recent highlights that you may have missed!
Happy Anniversary!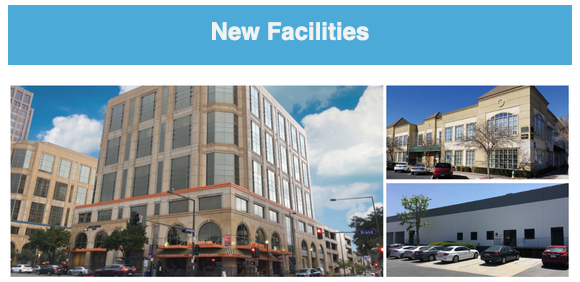 Arecont Vision Costar opened three new facilities in the state of California after launching as a new business.
Collaboration & Development Center in Glendale, CA, in Los Angeles county (left)
Advanced Technology Center (ATC) in Clovis, CA (upper right)
Manufacturing & Warehousing Facility in Duarte, CA (lower right)
Learn more about our new facilities in the press release here
Arecont Vision Costar operates our International sales and support organization from our facilities in Dubai, UAE that opened in 2018.
Sales and Field Application Engineer team members are located across the US and around the world, working with our network of authorized Manufacturer's Representatives, distributors, systems integrators, and security dealers.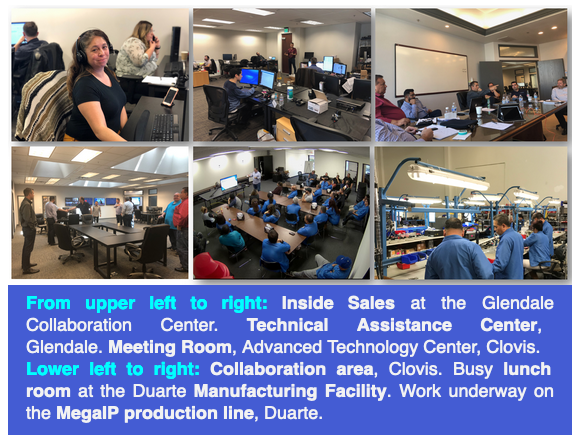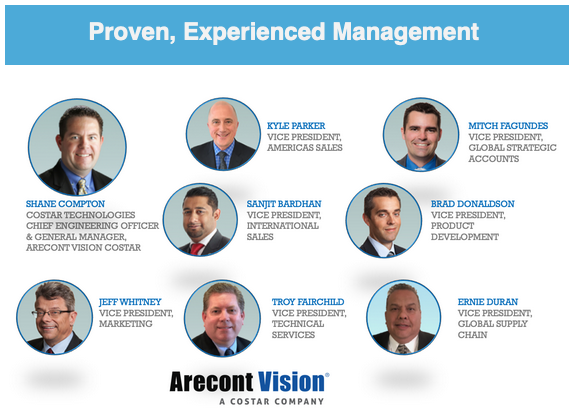 Our leadership team features both new and familiar faces, from Los Angeles to Dubai.  Learn more about the company, our locations, Made In USA manufacturing, our executives, and more here

While the Arecont Vision brand has been well recognized as a pioneer and industry leader in megapixel video technology, our new company is continuing to invest to ensure we maintain our position well ahead of our competitors and copycats.
We've continued to enhance the cyber-secure, cloud-based Arecont Vision Total Video Solution. It's composed of our world-class ConteraIP megapixel cameras plus our Made-in-USA MegaIP single, dual, and multi-sensor models, advanced ConteraVMS video management system software, ConteraWS cloud-based web services, and ConteraCMR cloud-managed video recorders and NVRs.  While many of these products can be used standalone or through either our MegaLab program or via ONVIF compliance with 3rd party solutions, together they combine to form the award-winning Total Video Solution.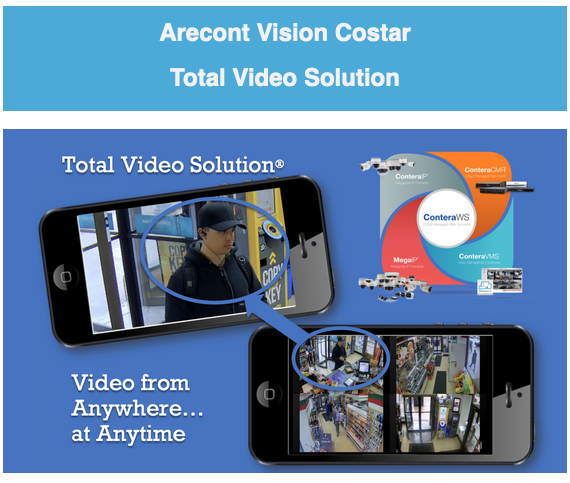 With the Total Video Solution, the power of Contera is in the palm of your hand, anywhere, at anytime.  In the security operations center. At your desk.  Or on your tablet or smartphone at home, traveling, or working remotely.  And all video can be easily and quickly shared over the cloud, with maximum cybersecurity protection built right in.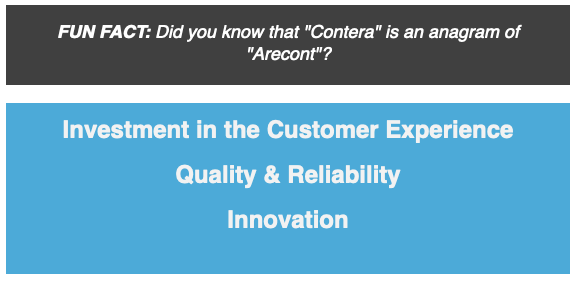 We've made big improvements for our online presence as well.
We've released an updated Partner Portal than ever before, featuring project registration, dashboard, sales presentation materials, software downloads, and much more.  It's available to authorized security dealers, systems integrators, manufacturer's representatives, and distributors.  You'll find it here.
We've continued posting Where Have YOU Seen AV Costar? images submitted by our customers, partners, and employees, providing thousands of In-the-Wild images of our our cameras installed all around the world.  We regularly add them to our MegaVertical presentation material.  See all the images here.
We've also built a new Customer Support Portal with a full Customer Knowledge Base system, all powered by Zendesk. Visit it here.  Speaking of which, our What Our Customers Say page has a large number of quotes customers have sent or provided for public use.  See them here.
Behind the scenes, we've improved our internal-use systems to provide more accurate and timely information that will benefit our customers and partners.  The new NetSuite ERP system has already been making a positive impact.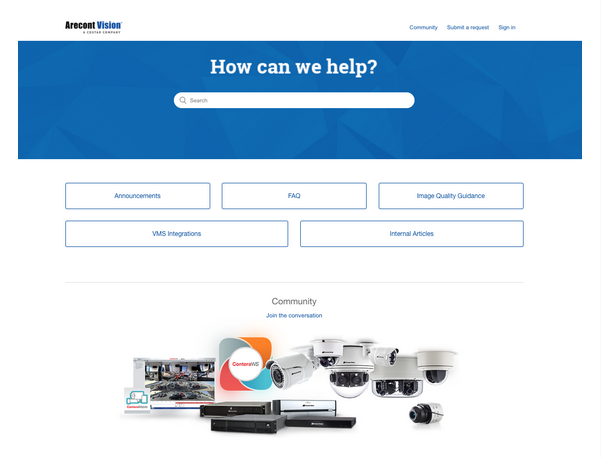 Arecont Vision Costar has also implemented a powerful new public website. Our web team developed the new site in response to customer, partner, and employee feedback in order to make navigation faster and easier.
Check out the new website here anytime.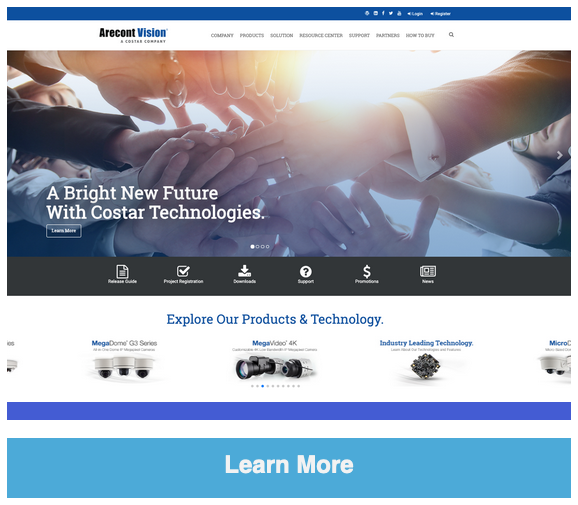 To learn more about the all-new Arecont Vision Costar, please visit our newly updated website, give us a call at +1.818.937.0700 (or at any of our regional offices and team members from the How To Buy page here), or email us anytime at [email protected].