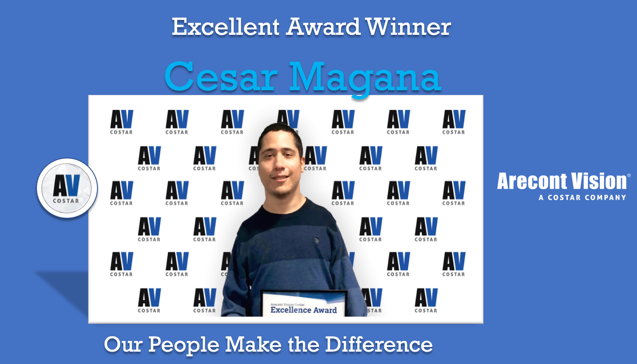 Cesar Magana Takes the Prize
Cesar Magana takes home the first Arecont Vision Costar Excellence Award, as posted to social media
In May of 2019, Arecont Vision Costar introduced a new employee recognition program for those who truly make a difference for both the company and for our customers
Nominations for the monthly Excellence Award come from employees across Arecont Vision Costar, based on their own experience with their coworkers or on feedback from customers and partners. The executive team then reviews each of the candidate nominations and votes on a monthly winner. This is no easy task, as every employee nominated has clearly done great things for their customer or coworkers.  A grand prize for the best-of-the-best will be awarded at year end.
Our first winner, announced in June from nominations submitted over the previous month, is Cesar Magana, from our Technical Assistance Center (TAC) team. Cesar is based in Arecont Vision Costar's new Los Angeles-area headquarters in Glendale. The company opened other key facilities in March, with manufacturing moving from the old Glendale location to Duarte, about 20 miles inland. At the same time, our corporate parent Costar Technologies opened a new location in Clovis, in California's Central Valley, which hosts Arecont Vision Costar's new Advanced Technology Center (Clovis ATC). See the press announcement for more information about the new facilities at https://tinyurl.com/yyjbbbdv.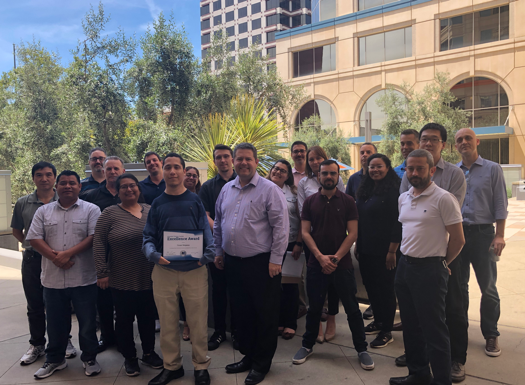 Cesar Magana (center) with Shane Compton and several other members of the Glendale HQ & Collaboration Center team
Magana was nominated for the Excellence Award by Hung Phan, Technical Support Manager, who is based at the Clovis Advanced Technology Center. "Cesar most exemplifies the culture and positive disposition that we here at Arecont Vision Costar covet the most," stated Phan. "Feedback from both internal employees and from customers has been overwhelmingly positive about him. Cesar is proactive and consistent, but this is not news to those of us who are around him daily."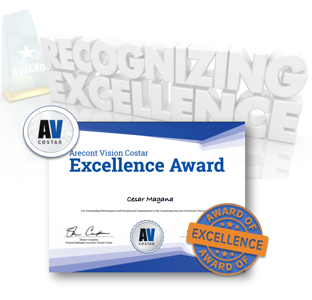 The Excellence Award winner is selected monthly from employee nominations.
Phan also provided an example of customer feedback, related to AV Costar Support Ticket #11455 (name restricted for customer confidentiality). "Support was amazing. Cesar Magana was patient, knowledgeable, and showed empathy.  All great traits of a Rockstar Support Engineer."
Shane Compton, Costar Technologies, Inc. Chief Engineering Officer and General Manager of Arecont Vision Costar, sat down to learn more about Magana shortly after he was named the first Excellence Award Winner.  Here is part of that conversation.
Congratulations on winning the award, Cesar.  What do you do for fun when you're not at work?
I like to learn about technology, to immerse myself in the latest & greatest.  See where technology is going, and to understand it.  That stuff makes me excited.
I also like things anyone else my age likes. I enjoy outdoor activities like deep sea fishing in the Pacific.  And of course, I enjoy video games.
What is your favorite sports team?
I'm a fan of both baseball and California, so that makes the LA Dodgers my team.
Where did you get your start in technology?
At a very young age, technology appealed to me.  I started tinkering around with my computer, learning why something didn't work, changing out parts, and just learning as I went.
I have always wanted to learn more about technology, and I have had the drive to pursue it.  That eventually led me here, to a role helping our customers with our own technology.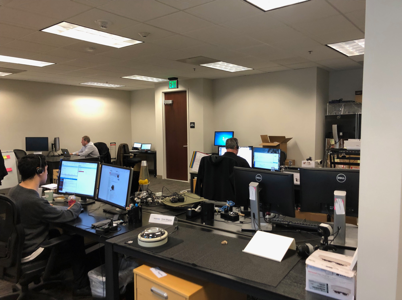 Cesar Magana (left) and others hard at work in the TAC
If you were able to speak to all of our customers and tell them what you are all about in terms of your job, what would you want them to know?
I like to treat customers as if I were in their position. I give them real sympathy, real empathy, because we all know what it's like trying to get something to work.
 In some companies, it's kind of hard to do that because the customer is just another number, another person that they don't really relate to when picking up a phone call.
 I want to deliver real understanding and compassionate care, and I actually do care about the customer.  I can hear the distress in their voice, the worry, and frustration in what they are explaining to me. And how that pertains to their life and their job. I am here to help them, as quickly and effectively as possible so that they can get back to that.
You transitioned to the new Arecont Vision Costar when it launched in July 2018, coming from a similar role in the original company. How have things changed for you in your job, working with the new Arecont Vision Costar team?
One of the things that really excites me since we became part of Costar is that we have experienced a lot of organizational change, and have a lot of good leadership. I see more of our leadership team now than I ever did before.
Those things have made a big change in the day to day job. Before, my role felt like I was just trying to keep my head above the water with the number of calls we received, and in solving customer issues. Now, it's more like we're really swimming, going faster all the time, giving better support to more people as we go.
In addition to our three new facilities in Glendale, Duarte, and Clovis, we implemented a number of new systems like Zendesk for customer support and NetSuite as an ERP system to increase efficiency.  What impact have those things had on you and your job?
There are new tools to get the job done, the Zendesk implementation being really big in terms of benefits. The Customer Portal it powers, and the dashboards it provides to each of our team in real time, are very useful. They definitely help me handle a lot more customers and do so more efficiently. That lets me prioritize my time in responding to the customers with the most critical issues, which is good for everyone.
The new tools allow the whole team to be able to track and maintain a much larger number of cases in a more organized fashion, and aids in getting them resolved.
Beyond Zendesk, some of the changes that came along with introduction of our new NetSuite system are great too.  The new systems provide a lot of information that helps us all to be more effective, with the dashboards and other tools.
***
Congratulations to Cesar Magana and to the other Excellence Award nominees.  At Arecont Vision Costar, our people do make the difference.